It's an interesting time to be in the mobile messaging space. I discussed the history of Internet and mobile messaging less than two weeks ago in my post The history of messaging, and where it's going, but even in just the past few days, lots of things are shifting in the space.
Just yesterday Skype (a division of Microsoft) announced that they are enhancing the chat functionality of their apps, enabling them to sync properly between apps on different platforms. Clearly, this is an attempt to take the fight to the mobile-first messaging companies that started with text, but started moving into Skype's audio and video call space. Skype has had text messaging for a long time, but if you looked at your messages on your computer, they would not show up as read on your phone, or visa versa. This is what Skype is fixing.
A few days ago it was rumored that an un-named Asian messaging company was looking to buy Viber for up to $400M. Speculation was rife, with obviously names like WeChat, Kakao, and LINE being bandied about. The head of Viber, CEO Talmon Marco, denied it outright. Well, he was not lying. Viber was not being sold to an Asian messaging company for up to $400M. It is being sold to Asian e-commerce company Rakuten for $900M.
One interesting aspect of this deal is that Viber competed at one point with another Israel-based text/audio/video company, Fring (technically Viber is based in Cyprus, with development in Israel and Belarus, but it was founded by Israelis). Fring was the more traditional VC-backed startup, and raised $30M in VC funds in several rounds. It sold last year for $50M, which by any VC-standard, was a massive failure. I don't know what the details of that deal were, but if you consider that some of the shares must have been owned by founders and other employees, then it's even possible that investors lost money on the sale. At least, I suppose, they didn't lose everything. Viber, on the other hand, raised no VC funds at all. The founders, also founders of iMesh, rolled money they made from iMesh with some friends and family money into Viber. What that means is that the founders of Viber, which sold for a bit less than Waze did to Google recently, will be considerably more wealthy than the Waze founders from the deal.
In looking at some of the background on this deal I stumbled upon an interesting statistic that is worth taking a look at in the wake of the Viber sale. Recently, a New Zealand telecom company revealed the number of customers that used each of the major messaging apps through their mobile service. Of the 1.81 million users of  Telecom NZ, they tracked the usage of the various messaging services in October 2013 as follows:
150,000 used Apple's iMessage service
140,000 used Facebook messenger
78,000 used Viber
35,000 used Microsoft Live messenger
32,000 used Microsoft Skype
25,000 used Google Talk
23,000 used WhatsApp messenger

It's a fascinating breakdown. Keep in mind that usage on this particular carrier, in New Zealand, is not necessarily the same as usage in Europe or in the United States. The carrier doesn't offer Blackberry phones, so BBM is not a possibility in the rankings. The carrier also offers the iPhone 5s for free, based on signing up for a certain plan. It's not thus surprising that iMessage is the most-used service, since it integrates with SMS in the phone, and can be the default service, whether the person is calling someone who has a smartphone or not (if they don't have an iPhone an SMS would be sent, and the usage not recorded in these stats though). Facebook, being the biggest social network and with over 800 million messaging users worldwide, is also not surprising. Based on the stories going around about the number of active users of WhatsApp and Viber, you might however think WhatsApp would be next on the list. It's not even close. Viber is next, and ahead of the others by far. Perhaps now, the $900M selling price is beginning to look a little more understandable.
To put things further into perspective I've put the above numbers into a chart below which is broken down by percentage of total users (i.e. number of users of a specific service divided by total number of subscribers (1.81M), then spread out over 100% – i.e. 150K users out of 1.81M is 8.29% of all users, but when combined with all the other users of other services, is roughly 31% of the total OTT messaging users). Here's the chart: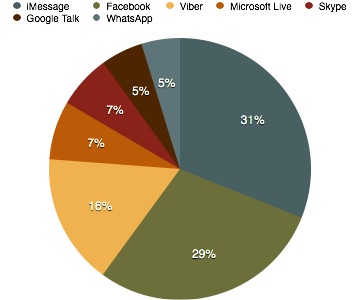 That nice big mustard yellow slice is Viber. Not too bad. Maybe Rakuten has found quite a good service with which to push its massive e-commerce platform through, considering the success of e-commerce in the Chinese version of WeChat, I think its likely Rakuten has some very specific ideas on how they will be making back that $900M, and then some…